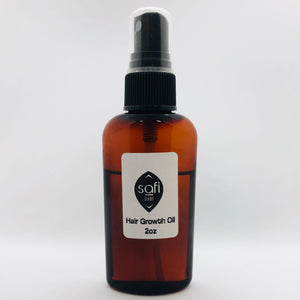 Safi
Hair Growth Oil
Take care of your mane (and/or beard) with this hair growth oil made from premium argan, castor, hemp, coconut, vitamin e, rosemary, and peppermint oils.  These ingredients all pack a punch and a little goes a long way, especially when used along with other moisturizing products.  While daily use may be a bit overkill, it is recommended to use at least 1 to 2 times a week.
Argan Oil
Argan oil comes from the fruit of the native Argan tree in Morocco. The fruit is so nutritious that goats climb the trees just to eat them. Inside of that fruit is the little nut from which Argan oil is produced. For centuries, dating back at least as far as 600 BC, the Phoenicians relied upon this oil for healing as well as for enhancing beauty.
What makes the oil so beneficial, is that it's rich with vitamins A, C and E, as well as being loaded with antioxidants, linoleic acid and omega-6 fatty acids. When applied externally, it can help boost cell production which results in healthier skin and hair – that's why you may have noticed that among the list of ingredients in high-end beauty products, Argan oil is often included.
Castor Oil
Castor oil is an age-old beauty treatment that has been largely replaced over time by fancier beauty products with more ingredients and a bigger price tag, but there's a reason your great grandma used it...it works!  
Castor oil has natural antibacterial and antifungal properties and is high in vitamin E, minerals, proteins, and omega-6 and -9 beneficial fatty acids. Its unusually high ricinoleic acid ratio makes it beneficial to skin and hair.
Castor oil can be used on the scalp to help prevent and remedy hair loss and it is effective at this for several reasons. Its antibacterial and antifungal properties make it beneficial against follliculitus, dandruff, and scalp infections and its ricinoleic acid content helps increase circulation to the scalp and improve hair growth.
Ricinoleic acid is also said to help balance scalp pH which can also help replenish the scalp's natural oils and undo some of the damage of harsh chemical hair products (and even damage from no-poo, due to over alkalinity). The antioxidants in castor oil also support the keratin in hair and help make hair stronger, smoother, and less frizzy.
Hemp Seed Oil
Hemp oil helps to enhance the growth of hair on the scalp in a number of ways. Among these is through the Omega-3, Omega-6 and Omega-9 fatty acids, which are necessary in stimulating growth.
Hair is made of keratin, up to 90% of which is a protein. Hemp oil can provide this protein during growth as a basic element of the hair, especially when included in a diet. The oil also improves blood circulation on the scalp, which ensures that the hair follicles are nourished enough to support hair growth.
Coconut Oil
Coconut oil is rich in antioxidants and fatty acids, and it has antiviral, antifungal and antibacterial properties. This allows coconut oil to improve the appearance, texture and health of our hair. When used on hair, coconut oil is able to:
improve hair dryness
improve scalp health
protect hair from protein loss
protect hair from UV exposure
fight infections and fungus
support hair growth
add volume and shine
Research published in the International Journal of Trichology indicates that coconut oil has protective effects on hair damage in the grooming process. This is due to its ability to penetrate into the hair cuticles and cortex.
Vitamin E Oil
Vitamin E is the collective name for a group of compounds with antioxidant properties. They occur naturally in some foods, such as almonds, spinach, sweet potato, and (our favorite), avocado. Vitamin E is an essential nutrient in your diet. It slows the aging process of your cells, protects against cell damage, and is also often used in skincare.
Vitamin E's antioxidant properties repair damaged hair follicles, prevent tissue corrosion, and help build tissue. This keeps your follicles healthy and promotes healthy hair growth.
Vitamin E promotes blood circulation and acts as deep moisturizer for your hair, preventing breakage and brittle hair.
Vitamin E is also known to protect your hair from the sun and the elements.
Rosemary Essential Oil
Rosemary essential oil strengthens circulation. As a result, it could prevent hair follicles from being starved of blood supply, dying off, and leading to hair loss.
Beyond stimulating hair growth, rosemary essential oil is used to prevent premature graying and dandruff. It may also help dry or itchy scalp.
Peppermint Essential Oil
The benefits of peppermint essential oil can be described as:
antimicrobial
insecticidal and pesticidal
analgesic and anesthetic
vasodilating (and vasoconstricting)
anti-inflammatory
Some people have used the oil as a remedy for hair loss. This may be because the menthol in peppermint essential oil is a vasodilator, and vasodilators improve blood flow. In many instances (such as in female or male pattern baldness), hair loss occurs due to starved blood flow to hair follicles. Increasing circulation with a vasodilator like peppermint could potentially improve hair growth and prevent some hair loss.